Cat on the Brink
Digital painting
Landscape for short film
Digital painting
Nany's House
Digital painting
Love Bird (I)
Digital painting
Venice, Italy
Digital painting
Fancy Loris
Digital painting
Seawall Trees
Digital painting
Tree Sketch
Digital painting
CHILDREN'S BOOKS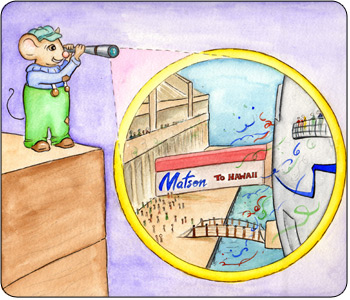 Matson the Mouse is now published! Duncan O'Brien (Pier 10 Media, a digital production company based in Victoria, Canada) brought Robyn in to do the illustrations for this 32 page illustrated book for kids age 4-10.
The story follows the adventures of a curious young mouse from San Francisco as he boards a Matson liner bound for Hawai'i, a place he has always dreamed of visiting. Along with his friend Sprecks the Seagull, Matson has many adventures on the high seas and in Honolulu, including a special visit to the world-famous "Pink Palace."
To follow along with Matson's adventures, please visit the official Facebook page.
PRINTS & HUMOUR